Saturday December 21st, Don't Kramp My Style, @Roy Wilkins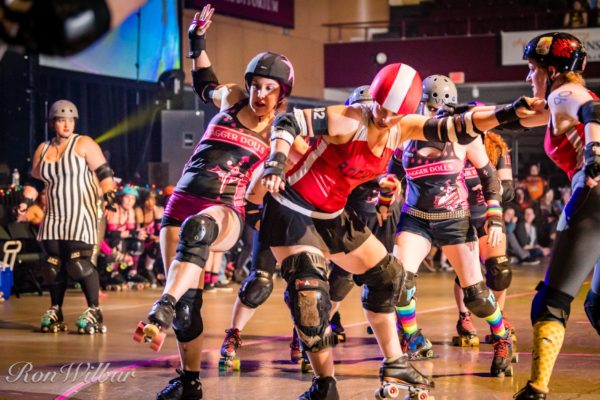 Alright, by bout three we're in full derby swing. The honeymoon is over, which means the intensity is only rising. Catch the competition first hand as the Bombshells take on the Gardas followed by a matchup between the Dolls and the Rockits. Season standings are on the line, so every point counts and every jam is a chance to take it all! It may be cold outside, but the heat is rising in the Roy Wilkins!
DETAILS
Saturday, December 21
Doors at 6:00pm, Bout at 7:00pm
The Legendary Roy Wilkins Auditorium
GET THERE EARLY, GET A FREEBIE
We'll be giving away a special limited edition Minnesota Roller Derby t-shirt to the first 200 people in the doors. There will also be a very limited quantity for sale. When they're gone, they're gone, so get there early!
FEATURED ENTERTAINMENT
Our pre-show is still in the works, so we'll update you on that soon.
Our half-time show will feature Tubby Esquire, the midwest's only (3 time Minnesota Music Award Winning) Pølka-Røck band! With a blend of Polka, Pop, Rock and Country, you won't be able to keep yourself from dancing!
AFTER PARTY
Join us after the bout for a good old fashioned derby after party! Location will be announced soon.
BOUT CHARITY AND DOOR CHARITY
Community Involvement is a core belief that makes Minnesota Roller Derby who we are. We believe in community and work to better ours through volunteering and donations. We fiercely support the causes and groups that are important to us and are grateful for our fans who support us and help us do so. In that spirit, every season we support season long bout charities that we love and believe in. Additionally, we identify one new worthy cause each bout to support as our door charity.
Our first bout charity for Season 16 is the Ann Bancroft Foundation (ABF) which inspires and empowers Minnesota girls to imagine something bigger and reach their full potential. Through grant programs and mentorship, ABF supports girls to identify and pursue their dreams while unlocking their self-confidence along the way. ABF's grant programs, Let Me Play and Dare to Dream, fund Minnesota girls in Kindergarten through 12th grade up to $500 – applications are open two times per year with deadlines on April 1 and October 1. We love the Ann Bancroft Foundation and the amazing work they do to empower girls in athletics!
Our second season long bout charity is the YWCA. YWCA is on a mission to eliminate racism, empower women, stand up for social justice, help families and strengthen communities. They have been working at the forefront of the most important issues of the day for more than 160 years, improving the lives of girls and women through advocacy, local programming and services.
In addition to our season long charities, each bout we collect items at the door to support our door charity of the evening. Proceeds from our Tattoo and Team Spirit are also donated to this worthy cause. Tonight's door charity is the Pink Cloud Foundation. Pink Cloud Foundation is a charitable organization based in Minneapolis, MN, that provides financial assistance, support services, and other resources to those transitioning to affordable sober housing. They also partner with other non profit organizations across the state to assist those seeking long-term recovery from substance abuse and other disorders.
SHOW YOUR TEAM SPIRIT
Get old fashioned black eyes for $1 at our Tattoo and Team Spirit Booth, or support your favorite home team for a $2 donation (kids always free!). If you think we've done an exceptional job, a more generous donation is always appreciated. All proceeds support our Door Charity of the evening, Pink Cloud Foundation.
TICKET DISCOUNTS
At the door only, bring your valid student ID or Military ID to receive a $2 discount.
In addition, we often collect donations of items to support our door charity for a $2 discount at the door. Stay tuned for more information on what we'll be collecting tonight!
(one discount per person/per ID or donation).