Mar 5, 2015 | Featured Skaters
Olga Ogilthorpe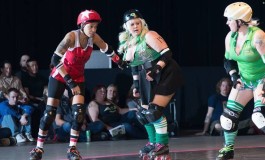 by Ali Gory
Derby name: Olga Ogilthorpe
Number: 19
Team: Garda Belts
Position: Blocker
How did you get your derby name: From the movie Slap Shot.
What is your favorite derby memory: Playing derby at Sturgis last year, best time of my life!
How did you get into derby: I went to a bout and thought to myself I can do that so I tried out.
What do you do in "real" life: Special Education Teaching Assistant
Do you have any special talents you would like us to know about? I can cartwheel my bra off. *
Do you have a favorite workout: Twerking
What song is you jam right now: The Gambler by Kenny Rogers
Would you like to give a shout out to anyone: I would like to give a shout out to 2 Chainz for always inspiring me and pointing me in the right direction.
*If you would like to see Olga's special talent in person, she will be performing at Jam Out With Your Clam Out. Look for event details to follow.