Mar 21, 2015 | Featured Skaters
Pepper Jackie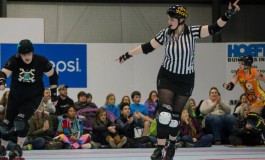 by Ali Gory
Name: Pepper Jackie
Number: 72"
Team: Referee
How did you come up with your derby name? When I joined the DebuTaunts my derby name was Betty Clock'her, but it was a mouthful, and we have a lot of Betties. I've worked as a cheesemonger for seven years now, and so I wanted to come up with something cheesy (pun intended.) I chose Pepper Jackie instead of Fontina Turner because I like the sassiness of the nickname "Pepper."
How did you get into derby? My husband and I were moving from the Detroit/Ann Arbor Area and I had met one of the teachers he worked with who was on the Detroit League. So I set this mental goal, like - "when we get to Minneapolis, I'm going to join the Minnesota RollerGirls!" I had no idea at that point that the DebuTaunts had a year long wait list... or that... I'm kind of a wuss who doesn't like getting hit.
Why did you become a ref? See the last question. Although I love this sport and everything about it, when it comes to me personally - I'm just not competitive, and I don't like getting hurt. Reffing allows me to be involved with our amazing league, and the most dynamic group of people I've ever known. And on another note, when you look across the landscape of officials in the WFTDA, it is still primarily male-dominated. This isn't meant to discredit any of the amazing officials that happen to be dudes, but I think that it is important for there to be women refs represented in our sport.
What do you do in your "real" life? Derby isn't real life? Well, I suppose in my day job I tickle cheeses.
Do you have any special talents you would like to share with us? I like drawing, I have an illustrated cheese blog www.artofcultures.com. I'm also a reformed band geek, and I can still play a few pretty mean riffs on my clarinet.
What other contributions do you make to the league? I am the Director of Sponsorship, I figured - hey, if I can sell cheese I can sell the league.
What is your favorite derby memory? The butterflies in my stomach the first time I skated into the Roy on a bout night wearing stripes. It takes about a year of practice before you finally get to skate ref a bout, and it was a huge accomplishment.
Would you like to give a shout out to anyone? Thank you to our amazing trainers in the DebuTaunts program. When I joined three years ago I had never been on quad skates, and I remember Lydia Punch and FoJo literally holding my hands as I took my first strides.
If you would like to help Pepper continue her dream of being a cheese expert, please vote for her to win the 2015 Sartori CCP Scholar Competition scholarship that would send her to the American Cheese Society Conference this summer to take her Certified Cheese Professional exam. Vote at http://bit.ly/1AfPrbO . Voting closes Friday 3/27 at 11:59 p.m. EDT.