Apr 3, 2015 | On the Road!
Atomic Bombshells Head to Rochester, MN!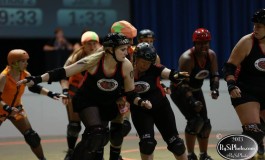 Atomic Bombshells vs. Med City Mafia
Saturday, April 4 at 7pm
Graham Arenas Park in Rochester, Minnesota
Follow your Atomic Bombshells south for a rematch against the hard-hitting Med City Mafia! The dedicated charity for this bout is Paws and Claws Humane Society (spoiler: puppy cuteness overload). They'll be hosting a donation drive, a puppy kissing booth, and other opportunities to help out our four-legged friends!!
Get tickets at the Wicked Moose, or from www.medcityrollerderby.com.