Apr 1, 2015 | Featured Skaters
Bully Jean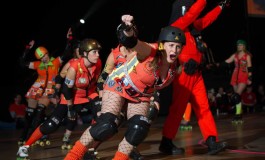 by Ali Gory
Name: Bully Jean
Number: 719
Team: Atomic Bombshells
Position: Blocker
How did you get your derby name? My sister Mary Pop'Em gave me the name, it was right after MJ died. Also, Jean was my grandma's name. How did you get into derby? My younger sister started to derby in Colorado, and that was it for me.
What do you do in "real" life? I'm a scrum master - which is a sexy title for someone who coaches software methodology
Do you have any special talents you would like us to know about? Before derby I practiced Kempo Karate, did musical theater, and played a lot of Texas Hold'em
Do you have a favorite workout? I Cross Fit so I assume no one wants to hear about my thruster or my snatch. (Clean gym humor...I promise)
What song is you jam right now? Hollow Moon by AWOLNATION .... "...I'll be back from the dead soon..."
Would you like to give a shout out to anyone? I want to give a shout out to Bully's Boys. <3U