Apr 22, 2015 | Featured Skaters
Get to know your 2015 Minnesota RollerGirls All-Star leadership!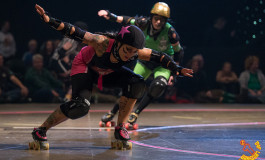 First up, let's hear from Shiver Me Kimbers, #667. This is Kimbers' seventh season skating with MNRG. Earlier this year, Kimbers was elected co-captain of the All Stars (along with Diamond Rough).
2015 team goals: WIN. SWEAT. WORK. WIN some more.
2015 personal goals: Becoming a better, smarter, more-agile jammer. Also, finding more balance in my life.
Pre-game rituals: I used to take selfies with Medusa, but now she's retired. Now I listen to my Ana Tijoux and visualize breaking through walls both as blocker and jammer.
Next, we have Winona Collider. Wino, as she's known, is in her third season as a skater; she was previously an MNRG referee for two years. A new 2015 addition to the All-Stars, Wino is co-captain of the Minnesota Nice along with Bully Jean.
How did you come up with your derby name? I love '80s movies. Winona Ryder was named after Winona, Minnesota, which is a cool Minnesota connection. Winona Ryder has a bit of a naughty side – she was caught stealing from Saks Fifth Avenue in 2001. She was sentenced to 480 hours of community service – hence my derby number.
2015 team goals: Become stronger as a team, on and off the track.
2015 personal goals: Agility, agility, agility! Juking and spinning skills for use as both a jammer and a blocker.
Game-day rituals: I try to do as little as possible on bout day. Rest, hydrate, eat, and visualize skating well and winning.
BOOMbay Safire is the MNRG All Stars' new head coach. But she's also been lighting up the track as a blocker for the MNRG Atomic Bombshells for the past 6 years.
What's the story behind your derby name? I drink a lot of gin. And I like hits that go BOOM.
Why did you want to coach the All Stars? I have always been a supporter of the work the MNRG All Star program does for our league on an international level. I want to be part of growing the program into its next iteration, seeing beyond what we are now, to what is possible and what will be.
2015 team goals: I want the program and skaters to set the tone for new and innovative roller derby around the world. I want each skater to use their talents to the best of their ability, and then take it one step beyond.
2015 personal goals: My goal is simply to attain a balance between challenge, support, and engagement.
What motivates you to show up for practice? When it's GO TIME and I stand in front of a skater, look their eyes and say "I KNOW you can do this," I need to believe in those words. The only way for me to know their talent is to watch it progress. And in order for them to believe me when I say it, they need to know I was right there watching them grow the whole time. That's what makes me show up.
Max Becker is the new bench coach for the MNRG All Stars.
Max has been following roller derby for 3 ½ years. He's excited (really! He's really excited!) for the opportunity to work with the best team in roller derby!
Why you decided to apply for coach/captain: Ever since I first saw the MNRG All-Star program I have had a strong respect for their style of play and level of discipline. I wanted to help out in any way that I could and jumped at the opportunity to Bench Coach.
2015 goals: To have our amazing All-Stars play in front of a packed home team crowd at WFTDA Championships this year at The Roy. I want us to be the most focused and disciplined team in Roller Derby. And Win, Win, Win!
Game-day ritual: Eat a large breakfast and listen to metal.
Bully Jean is our Minnesota Nice co-captain, with Winona Collider. Bully has been playing roller derby for 5 years. Her derby name was a gift from her derby sister; for years, her bio read, simply, "Not your lover."
Bully stepped away from the All Stars for a year or two, but is back in full force! She is taking on the captain position because, she says, "It's the best way to hold myself accountable for working really hard."
2015 team goals: I want Minnesota Nice to work so hard that we start to challenge the top charter skaters and bring up the level of play for the entire All Star team. Can you hear us closing in on you?
2105 personal goals: I'm trying to jam more so that I can be a more rounded skater. I keep looking at my performance and figuring out what I can do to be better (gym time, diet, etc.), and right now I believe that jamming more, at least during practice, is going to make me a better skater in many dimensions.
What motivates you to show up for practice? Practice is the fun part for me!
Game-day ritual: On bout day morning I watch Supernatural all morning while drinking coffee and cleaning my wheels.
Finally, we give you one of the more recognizable faces of MNRG:
Diamond Rough
. D, like Kimbers, is in her seventh year playing derby with MNRG -- "We're from the same rookie class!" D says.
D's derby name comes from the phrase "diamond in the rough," and her experience as a rookie. "While I seemed a little unpolished around the edges, a bit of shining and care helped me stand out, "she says. "I know it's a little cheesy, but that's okay with me."
D decided to run for All Star captain because, she says, "It is pretty crazy how much I care about this team. We saw some great leaders move on this fall/winter. I wanted to be sure the charge was still being lead in a passionate way by experienced skaters. I did captain the Atomic Bombshells for three seasons, but dedicating myself in this way to the All Stars was not something I had done. It didn't feel like it was my time until this year. I hope I can rise to the occasion and make everyone proud. I love these women and want to help build the strongest team possible."
2015 team goals: "When the Hydra (WFTDA Championship trophy) shows up in St. Paul in November, I want us to be playing for it. I hope to build trust across the entire All-Star team (Minnesota Nice and Chartered team), win games, improve our ranking, and play in WFTDA Championships in OUR Legendary Roy Wilkins Auditorium. I want to build strong leaders throughout the league, and laugh as much as possible along the way."
"I'm never completely satisfied with my performance and skill. I think if I was, then I'd show up for practice less. I'm kind of an all or nothing gal and well...it's been "all" for seven years now.
"Before a game, I always try to drink more water, go to sleep, and try to stay zen as long as possible leading up to the game. There's always the performance nightmares, where I forget my jersey or have to play in my middle school figure-skating dress."