Apr 19, 2015 | Featured Skaters
Maul E. Coddle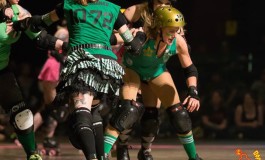 by Ali Gory
Derby name: Maul E. Coddle
Number: 45
Team: Garda Belts
Position: Blocker, occasional jammer
How did you come up with your derby name? I read an article about roller derby. They said there was no "molly coddling" in roller derby. So true.
How did you get into derby? I love to skate! When a student at the school I work at asked me what my "dream Job" would be, my mind went back to an evening spent watching The Minnesota RollerGirls. Then one fateful Fall morning after running the Women Run the Cities 10K, I met SandBlastHER at the Ann Bancroft booth. She encouraged me to give it a try. How do you say no to that?
What is your favorite derby memory? There are so many, but winning the Golden Skate is one of the best! Then there will always be the after party in Madison. 😉
What do you do in your "real" life? I work at a Junior High School as an Administrative Coordinator. One of the students at my school is involved in NERDy. It is really great to see the fire in the kid's eyes when they hit the track.
Do you have any special talents you would like us to know about? I have earned my "Shark" status for jumping into Lake Minnetonka every New Year's morning for the past 11 years.
What other contributions do you make to the league? There are so many opportunities to contribute in this league. I have bounced around a little, but I am currently on the Safety Committee…safety first!
Would you like to give a shout out to anyone? Being a part of this league requires a big time commitment. I am lucky to have a partner who supports me 100%. Thanks to my husband Dennis for being my athletic supporter.