Oct 11, 2015 | Bout News
All-Stars Earn a Trip to Saint Paul!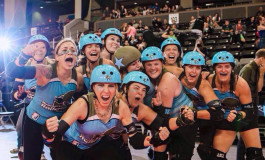 A note from your very own Minnesota RollerGirls All-Star Captains:
The Minnesota RollerGirls All-Stars have made it to 2015 International WFTDA Championships, taking place in our own house! After extremely physical games defeating Boston and Montreal (with a loss to Angel City), we secured the final ticket to Champs. We are so proud of the work this team has done to get so far this year. Every single skater brought their game on that final night in Omaha. A huge thank you to the Aquaman Army [The All-Stars' very coordinated cheering section] and Minnie Sorta-Nice who traveled with us and filled the stadium with cheers to bring us to victory. And to the entire league and fans who have supported us, gathering around screens at Camp Bar and at home, we could feel you rooting for us. Be sure to join us on November 6th in the Roy Wilkins Auditorium as we continue our journey during the 2015 International WFTDA Championships.
-Diamond Rough & Shiver Me Kimbers
Photo by Wes Bailey