Mar 14, 2017 | Special Announcements
Join the Minnesota RollerGirls All-Star Clinic on April 2!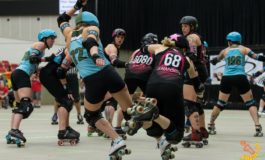 Make the first weekend in April the weekend where all your derby dreams come true! On Saturday night, catch the Minnesota RollerGirls All-Stars as they take on Philly Roller Derby at the Legendary Roy Wilkins Auditorium.
Then, on Sunday, join the very same Minnesota RollerGirls All-Star skaters as they hold a skills and strategy clinic open to skaters, off-skates participants, and officials!
The clinic will feature training from Minnesota All-Star skaters with focuses on jammer-specific skills and blocker-specific skills. The day will culminate in a black and white scrimmage. Please join us for the clinic, the scrimmage, or both.

WHERE: Saint Paul RiverCentre Roy Wilkins Auditorium
WHEN: Sunday, April 2nd
Registration will take place from 8:30-9:00am. The clinic will run from 9:00am-12:00pm. There will be a short break for snacks, and then a black and white scrimmage from 12:30-1:40pm.
WHO: This clinic is open to scrimmage-ready skaters 18+ (of any gender) who have primary health insurance coverage and WFTDA or USARS insurance. There will also be an officiating clinic for any on or off skates official. The cost is $40 for clinic and scrimmage for skaters. Minnesota RollerGirls Debu-taunts will receive a discounted rate of $30. Off-skates participation is $20. Minnesota RollerGirls league members may participate at no cost.
The cost to drop in for scrimmage only is $5.
WHAT TO BRING: Black and white scrimmage shirts, gear, water bottle, lunch, and snacks. You are welcome and encouraged to bring a notebook to take notes.
REGISTER HERE:
If you have questions, please contact Hanna Belle Lector at allstar.bootcamp@mnrollergirls.com.