Mar 15, 2018 | Special Announcements
Sign up for our All-Star Bootcamp Clinic on April 8!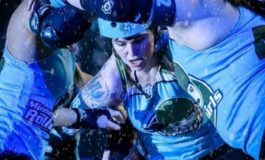 The Minnesota All-Stars, along with our amazing officials, are gearing up for the 2018 travel season and are preparing by hosting a one-day clinic on April 8th! The clinic is open to 18+ scrimmage-ready folks of all genders.
Sign up by clicking here!
The skating clinic will feature training from Minnesota All-Star skaters supporting the building blocks of All-Star skills and strategy. The officials clinic will include footage review and valuable information for both skating officials and NSOs. The day will culminate in a black and white scrimmage.
Please join us for the clinic, scrimmage, or both. If you register for the full-day clinic, the scrimmage is included. If you are not scrimmage-ready you may purchase an off-skates pass to observe the clinic and take notes (this is a great idea for coaches). You must have both primary health insurance AND either WFTDA or USARS insurance to participate. No spectators allowed.
Schedule:
Check-in begins at 8:30am
Start time at 9:00am
Scrimmage, 1st whistle at 2:30pm
What to bring:
For on skates: all gear (helmet, knee pads, wrist guards, elbow pads, mouth guard) NO EXCEPTIONS
Water bottle (electrolytes are encouraged)
Snacks and lunch (there are restaurants within walking distance)
For scrimmage: black and white shirt with your number
Signed waivers found here.

If you have any questions, please email Madame de Stompadour at stompy@mnrg.me.
NOTE: We reserve the right to remove you from scrimmage if you pose a danger to those around you.