Jun 19, 2018 | Bout News
Minnesota All-Stars Program Continue Strong Regular Season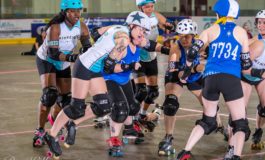 Back to back weekends of intense derby action culminated in major wins for the both the Minnesota All-Stars A Team and the Minnesota Nice! Both teams experienced great rankings bumps as they look toward the post season. Congratulations to everyone for securing multiple underdog wins!
The weekend of June 9-10, the Minnesota Nice hosted two exciting bouts at Doug Woog Arena in South Saint Paul.
- Saturday, the Nice took on the Mad Rollin' Dolls B-Team, and walked away with a decisive 169-110 win.
- Sunday, the Nice topped the Happy Valley Derby Darlins 181-118.
The weekend of June 15-17, the Minnesota All-Stars A Team traveled to Oakland, California to participate in Bay Area Derby's Golden Bowl Tournament. Coming in as the lowest ranked team in the tournament, the All-Stars walked away 3 for 4 on the weekend, resulting in three incredible upsets!
- Friday morning, the All-Stars beat Arizona, 159-139.
- Friday evening, the All-Stars fell in a great game against Atlanta, 80-201.
- Saturday, the All-Stars topped Bay Area Derby in a very close bout, 147-140.
- Sunday, the All-Stars pulled out a last jam win against Santa Cruz, 152-150.