Sep 10, 2018 | Special Announcements
Season 15 Draft Party is in the Books!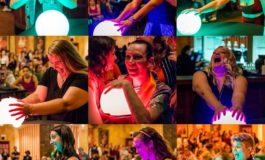 We had an amazing time on Friday, September 7, drafting new skaters to our home teams for Season 15! There are incredibly talented skaters being added to our league, and we can't wait to see what they bring to the track. Be sure to get your tickets to see them play for the first time in our home opening bout on October 13!
Below is a list of our newly drafted skaters for Season 15!
Atomic Bombshells: Lazy Susan, MiserLewd, Pitch Slap, Rosa Park-it, Speed Rita and Velvet Wench
Dagger Dolls: BB-SK8, Little Rascal, Mollz to the Wallz, Pretty Rackless, Thimbleberry Slam and Val Kyrie
Garda Belts: Gay of Reckoning, Kafrodisiac, Legs, RamPaige, Sodium FiNa and Yzerslam