Nov 17, 2018 | Bout News
Feel the Win in Your Hair preview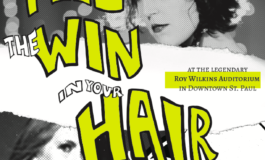 Hey derby fans…
…the most important tournament in the upper Midwest begins again this very Saturday.
That's right. The Golden Skate Tournament is nigh. The Atomic Bombshells have held the Skate for the last three years, and you'd best believe the other three teams are getting…impatient to win it from the Dynasty of Orange.
Saturday's bout is a repeat of last March's finals. The Rockits get first crack at the Bombshells, while the Dagger Dolls try to get one back on the Gardas. But remember, three of the teams have gone through some significant changes since last we saw them in play.
Your meta-derby questions answered
Need tickets? Get the on game day at the Legendary Roy Wilkins Auditorium's box office.
Getting there early? The first 200 in the gates will get a limited edition t-shirt, and once in, Legacy Gymnastics are there to entertain you before the bout begins.
Bring your polkain' shoes: World-famous polka experts Tubby Esquire will take the stage at half-time.
Going to the after-party? Head to Camp Bar after the last bout ends.
Garda Belts v Dagger Dolls
Last month
The Dagger Dolls took the win in an abbreviated Gilded Steak bout over the Garda Belts, 74-61.

"There is a thirst for skill and knowledge that I have never seen on the Gardas before, both from our new kids and our vets." - Crust Almighty, Garda captain

"We are an ever-recycling whirlwind of fierce pink tenacity. Better shapes, bigger hits, and smarter star passes." - Dagger Doll captain Whoopsie Daisy, guaranteeing Dagger Doll dominance
Jammers, jammers, jammers
No secret that the Dolls have esprit d'corps up to HERE. They love their diversity of jammers and put their stars on a small ton of their staff in their Gilded Steak bouts. There are still stars of the stars, mind you; Shock Therapy's powerhouse moves and itchesbetrippin's grace under pressure in October had an outsize impact on the bout. In addition, the Doll caps are excited to see what Doll rookie Little Rascal can do once they start playing for the Golden Skate.

…but never fear, Garda fans. You have excessive jammer talent this year. Switch Please? Check. Ida Sockher? Check. Garda rookie Gay of Reckoning? Check. Obscene Sheen is back for this bout as well. That's not the end of the list; I just ran out of space.
Get ready for the comeback
The trouble with single-half, Gilded Steak bouts? There's rarely time for a comeback. If a team pulls a big lead, a full recovery is really difficult to pull off. Sure, the Gardas were spinning up an effective new jammer rotation just as time expired last month…but time expired nonetheless and the Dagger Dolls got their well-deserved win.

This time it's different. Two halves, plenty of time to use your timeouts and call out reviews when a coach or captain thinks a ref's call ain't quite right. Point and counterpoint. You know how it goes.
Arrrr...
Oh, and speaking of a comeback…word is Shiver Me Kimbers is likely suiting back up in green for Saturday's bout. Kimbers spent a good bit of last season out on nine-month injury, and her return opens up a lot of avenues for the Gardas, whether as a utility jammer, an pivot anchor to a blocker pod, or just the strongest teammate you can use to drop a jammer into the floor seats. #dontspillyourbeer

Gardas out: Beach Slap, Rampaige Dolls out: Moto Fluzzi, Oh Geez
Atomic Bombshells v Rockits
Last month
After an incredible opening jam by the ABS (30 points!?), the Rockits achieved orbit, outscoring the ABS 112-83.
The Rockit Pack is here
We asked Rockit captains about their mindset going into this game. JoJo Juk'em put it like this: "Rockits have been working on really locking down our defense for this next bout, which has historically been our strong suit." The ABS jamming staff isn't a one-trick toxic pony, so Rockit defense has to get themselves nailed down if they want their jammers to start scoring. This is where that veteran blocking staff will come into play. Effective teams have their anchors and Rockits have many. Once the pack is established, individuals like Manilla Ice, Animal, and DarkScar have an opportunity to get in there and own ABS jammers. When the pack breaks apart? That's where the jammers score.
Back-to-back-to-back-to…
What hasn't been written about the Atomic Bombshells? The winningest team in MNRG history, the Bombshells are coming into the tournament as three-time repeat winners of the Golden Skate. And it's no secret why; ABS captains are ruthless in drafting good talent - both from our own Debu-Taunt program as well as transfer skaters. Once on the team, an individual ABS' ability to work as a unit determines how often they're out there. If a Bombshell blocker gets passed, they'll sprint back into the scrum and force the jammer to pass them again.

The ABS program is the gold standard right now, and no one's consistently gotten past them for three years.
Eyes on Orange #4
Keen-eyed fans at October's bout may have noticed that a new jammer on the ABS scored a rare sextuple grand slam in the first jam of the final bout of the night. That's thirty points, folks, and you can't just do that to the Rockits. Orange #4 - Lazy Susan - is not a rookie; she made her way to Minnesota through Denver, Colorado - another place where the roller derby resurgence has taken hold. Don't expect Lazy Susan to stay on the bench much.

Rockits out: Moose Def-initely, Meshugenough, Rhea Volt

ABS out: mAlice, T-Wrecks, Pitch Slap

Got all that? Good! See you at the bout!