Mar 24, 2019 | Bout News
Follow the Frostbite this Spring and Summer!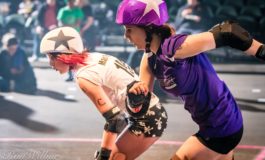 The Minnesota Frostbite, our competitive junior roller derby team, will be skating in their inaugural season this spring and summer. Follow along with these 11-17 year old athletes that represent the future of MNRG! Check out their current schedule, and we'll continue to update as more details and dates get set!
Saturday, March 30: Pre-Show at Skate Like UCare: Home Team Championship
Saturday, April 6: Minnesota Frostbite vs. IC Bruisers in Iowa City, IA vs. IC Bruisers and Nashville Junior Roller Derby
Sunday, April 27: Minnesota Frostbite vs. Sioux Falls at home
Saturday, May 11: Minnesota Frostbite @ Derby Devils Mixer in Austin, MN
Sunday, June 9: Minnesota Frostbite vs. Sioux Falls Baby Dollz
Interested in learning more about our MNRG Juniors program, which provides skating opportunities for kids ages 4-17? Feel free to email juniors@mnrollergirls.com to get all details!