Mar 31, 2019 | Bout News
Rockits Take Home the Golden Skate!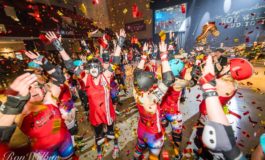 After a stellar performance by both teams in the Championship bout of Season 15, the Rockits came out on top with a dominant win over the Gardas, 190-103. This topped off an undefeated season for the Rockits, and sent them home with the Golden Skate for the first time since Season 7!
In the third place matchup, the Bombshells narrowly defeated the Dolls, 157-146, in a back and forth battle to the end.
We can't wait to see you again on April 27 for our All-Star bout, Casino Roller!
Missed the action? Catch it again here!
Skate Like UCare - Minnesota RollerGirls Season 15 Home Team Championship Bout from Minnesota RollerGirls on Vimeo.