Mar 2, 2019 | Bout News
Survival of the Fastest Final Scores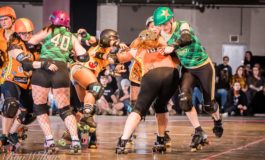 In the home team semi-finals of Season 15, the Rockits kept up their winning streak and beat the Dolls 210-85. The Gardas fought hard and kept their early lead over the Bombshells, securing their way to the home team championships with a final score of 202-182.
We'll see you on March 30th, where the Bombshells and the Dolls will compete for 3rd and 4th place and the Gardas and Rockits will face off for the Golden Skate!
Then it's on to an All-Stars bout, closing out our season on April 27th.