Apr 24, 2019 | Bout News
Casino Roller: the Preview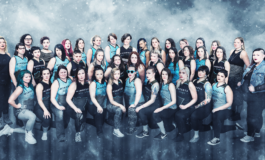 This weekend, the Minnesota RollerGirls will end their 15th season of hard-fought, hard-won roller derby…by changing their uniforms. No, the Atomic Bombshells aren't trading in their look. It's All-Star season, sports fans.
The players of the MNRG really have two seasons. The first one involves our four home teams and the Golden Skate tournament. However, a second season starts in mid-winter as the players pick coaches, captains, and start training up our two travel teams - the Minnesota Nice and the MNRG All-Stars (sometimes called 'Minnesota Mean').
Your MNRG All-Stars are the best of our best and are ranked 8th in the North American Western region - 18th overall worldwide according to wftda.com. The Nice represent both veteran players as well as the up-and-coming talent of the MNRG.
Now, these two teams will travel across the US this summer and play anyone daring enough to take them on. They'll even have their Have a Nice Day tournament right here in Saint Paul in June. But it's April…and it's time to play.
Things to know:
Doors at 6pm: Get there early. If you're one of the first 200 through the door, you get a t-shirt. It's that easy.
The Pre-Show: The MNRG Debu-Taunts take to the track just after the doors open. Come see tomorrow's derby's stars - and start taking bets on which team will draft them in the fall.
Halftime!: It's time for the Black Widows to take the halftime stage this Saturday.
After-Party: Our friends at CAMP Bar are having us over for the end of the season after-party. JOIN US.
There. Will. Be. Singing: Watch for the painted-up, totally-amazing demigods of the stands - the Aquaman Army. Join Minnesota's travelling supporters section as they gear up (and warm up) for this year's All-Star season.
Let's meet the teams.
Minnesota Nice vs Winnipeg Roller Derby League
They may be the MNRG's B-team, but the Minnesota Nice program's unofficial ranking from Flat Track Stats is actually well above established teams that we've played over the years - higher than Cincinnati, higher than Carolina Rollergirls, higher than Duke. That's a remarkable ranking for a team whose core changes from year to year.
This year, the Minnesota Nice is sporting another new look - and folks, this is where it gets fun. The four teams have come together and put on the Aqua and Army uniforms of the All-Star program.
This weekend, we'll be seeing the Rockits' Bri Zuss and Moose Definitely team up on the jammer bench with Little Rascal and Val Kyrie from the Dagger Dolls. You get Gardas like Baller and Gay of Reckoning building packs with Hannah Shot First and the BEAST THAT IS Madame De Stompadour from the Atomic Bombshells. This reporter is personally looking forward to #37 - Oh Geez - making her return to an All-Star squad after a injury knocked her out for most of the season.
Can Minnesota Nice play AND WIN against a fully-fledged, WFTDA travel team from the mean streets of Manitoba? That might seem funny, but…the Winnipeg Roller Derby League are really good. They're a top-100 league in WFTDA and had a great season last year. Winnipeg went to play at the storied ECDX tournament in Philly, they narrowly lost to the North Stars from Minneapolis, and their season is taking them even further abroad this year. This'll be the Nice's first challenge of the season, and it's a steep one.
So here's the deal: Our jammers are going to need to pick their way through the Winnipeg pack. The outer lanes of the track are going to be better guarded than in an MNRG home-team game, That'll mean battle down the center of the track, out-pushing the Canadian blocker staff. Winnipeg is going to have trouble doing the same thing; MNRG doesn't mess around with their walls, and pressing into a dug-in Minnesota formation is basically like running through a mountain for two minutes.
The Nice have had less than a month of committed practice together, but many of them have been training as a league together for years. Good luck, Winnipeg. Come meet our Nice.
The MNRG All-Stars vs Team Philippines Roller Derby
Who are Team Philippines Roller Derby?
In addition to the start of the All-Star season, you'll see a rare sight on Saturday. You'll see one of the world's very few national roller derby teams - Team Philippines Roller Derby outside of the Roller Derby World Cup.
Several years back, the derby magazine Blood and Thunder put together a worldwide roller derby tournament inspired by the Football World Cup. Players of Filipino descent from all over the world came together in 2017 to create Team Philippines Roller Derby. Philippines RD played at the Roller Derby World Cup in 2018 and took 18th overall.
How did this happen? How did Team Philippines RD come to the Roy? Well…here's a hint. Watch carefully this weekend; you'll see a familiar face on the Philippines RD roster. Our own Manila Ice will hit the track as part of the Philippines national team. Although she is an MNRG All-Star, you'll see Manila Ice play against her teammates for this one night only.
Your MNRG All-Stars
The All-Stars enter this summer season with a very different team than they left it. Shock Therapy and Switch Please return as jammers of record, but they bring with them Homo Erratic AND Wheelie Nelson of the Atomic Bombshells as regular jammers. Both Rat and Wheelie had standout years for the ABS, and the coaching staff (The Matriarchy) have brought them into rotation.
Should those jammers falter, Minnesota has a whole tier of pivots (blockers that can take a star pass) that can back them up. Anne T Fascism, Lazy Susan, Peppers, and Riotchu (returning as a player for the All-Star season) all can take on both blocking and jamming roles when needed. With such a strong jamming bench, it makes sense to have powerful players like Susan contribute to Saint Paul's Great Wall.
Also exciting? Solid pack players like Lola Frequency and Thimbleberry Slam join the All-Stars blocking staff. Rockits Killer Bea and Whacks Poetic add their bodies to the will-breaking walls of the MNRG. Barbell Fett makes her initial appearance for the All-Stars after a remarkable rookie season for the ABS.
This is a new team…but the program is not. Minnesota's been playing top-level derby for more than a decade, and that means there's a top-rate coaching staff that's been training us to be better. This year, The Matriarchy takes the helm, a coaching staff with years of roller derby on their wheels. Heading up this crew is the legendary Hurtrude Stein, long an All-Star and a member of Team Poland's world cup team herself. With Shock Therapy and Switch Please as captains, this is the team that will lead your MNRG All-Stars to another year of glory.
Welcome back, All-Stars. See you at the Roy.