May 13, 2019 | Bout News
Join the All-Stars at Home June 7-9 for Have a Nice Day Tournament!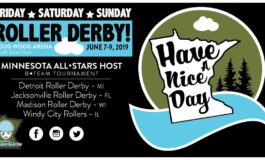 It's a RARE opportunity to catch the Minnesota RollerGirls at home over the summer, but here's your chance! The Minnesota All-Star Program is hosting a three day B-Team tournament featuring top level derby talent from all over the country!
Come on out to Doug Woog Arena in South Saint Paul to cheer on the Minnesota Nice and the Minnesota All-Stars. Joining the tournament will be Detroit, Jacksonville, Windy City, and Madison.
Get all the details on our event page at here. See you June 7-9 in South Saint Paul!