Sep 27, 2019 | Special Announcements
Live 100 Block Party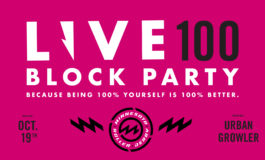 What: Live 100 Block Party
Where: Urban Growler Brewing Co. @ 2325 Endicott St, St Paul, MN 55114
When: Saturday, October 19 from 12 pm - 9 pm
A BLOCK PARTY WITH A PURPOSE
It's easy to look at someone and see only one piece of them. What they do for a living, what hobbies they have or their likes and dislikes. But the reality is, there are tons of equally important pieces that make each of us 100% us.
So we're celebrating living 100%.
Because being 100% yourself is 100% better.
Thanks to our sponsors Little & Company and Urban Growler Brewing Company for bringing this vision to life.
COMMUNITY INVOLVEMENT
Noon – 5 PM:
Minneapolis Craft Market will be hosting a market with an amazing selection of LGBTQIA+ and women makers and business owners.
FUN & FORCE
Noon – 5 PM:
Join us for a variety of activities that allow you to show your strengths and have fun along the way.
INDIVIDUALITY & INCLUSION
Noon – 5 PM:
Time to get personal. Get a custom printed shirt from ShamelessInc Mpls with a badass design, a phrase of your choosing or perhaps a Live 100 temporary tattoo!
EMPOWERMENT & GROWTH
3 – 4 PM:
Join us for a panel discussion with moderator Jana Shortal! Hear from a diverse group of incredible individuals about being and living their 100% truth. We'll talk about their journeys of getting to know themselves, all of the pieces that make them who they are and how they show up authentically 100% of the time—regardless of what anyone else has to say about it.
FOOD & DRINK
Enjoy an amazing selection of food and beverages from our friends at Urban Growler Brewing Company.
MUSIC
5:00-6:00: Matt French (acoustic set)
https://www.mfrenchmusic.com/ and https://www.facebook.com/mfrenchmusic/
6:00-7:00: Mina Moore (dj set)
https://www.facebook.com/minamooremusic/ and http://www.minamooreforever.com/
7:00-8:00: Al Church and State (band set)
https://www.facebook.com/AlChurchmusic/ or https://alchurchandstate.bandcamp.com/
We can't wait to Live 100 with you!
Co-hosts: Urban Growler Brewing Company and Minneapolis Craft Market