Nov 16, 2019 | Bout News
Bout Recap – Sweet Sixteen – 11.9.2019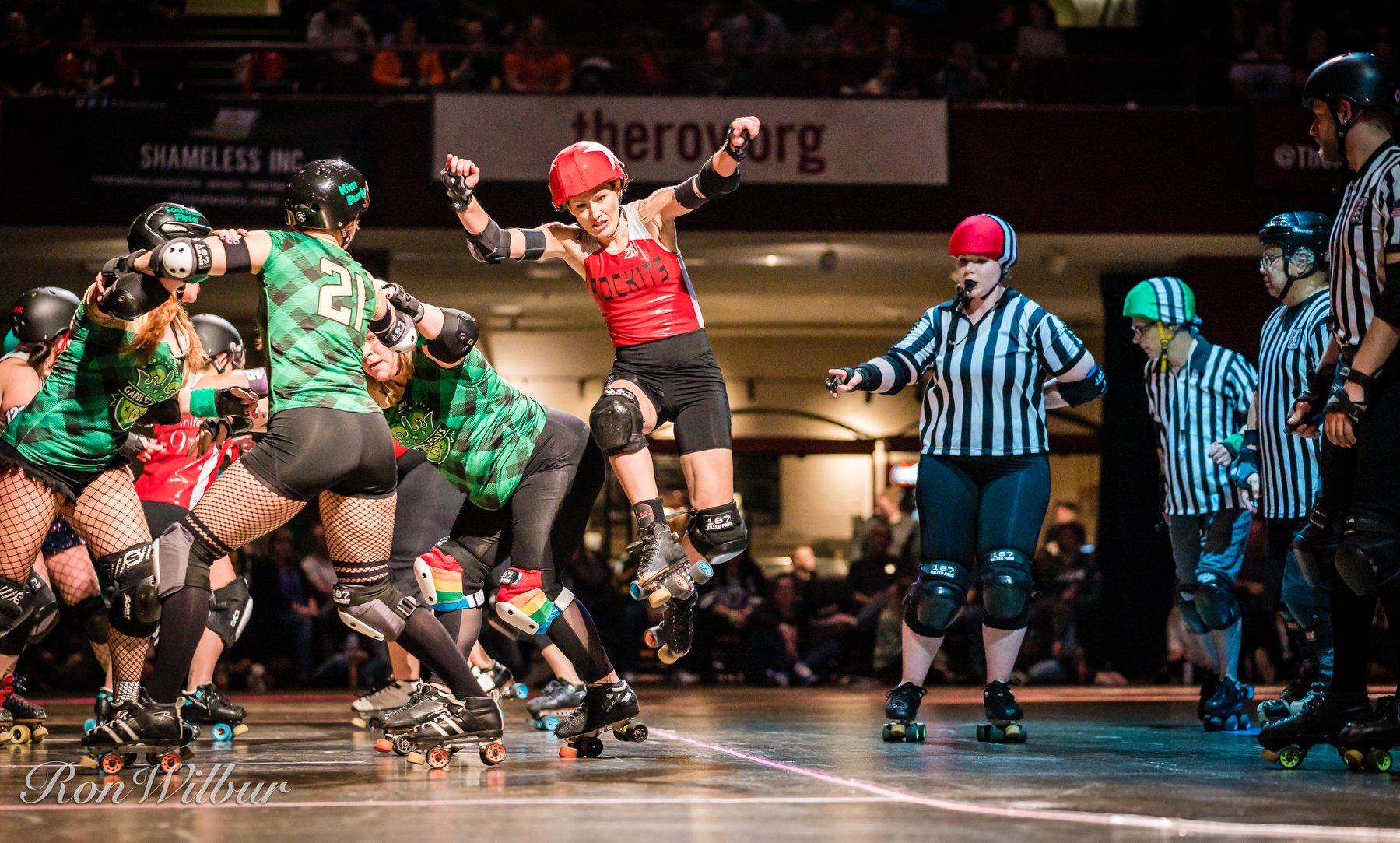 BLOWING OUT SIXTEEN CANDLES IN SWEET STYLE
Written by Sana Sandra "Squirrelly" Karbal
The cascading St. Paul snow wasn't the only thing getting frosty -
MNRD Frostbite
kicked off Sweet Sixteen with a pre-game bout in front of the crowd at the Roy Wilkins Auditorium. Frostbite is the competitive junior program within the league for any skaters ages 4-17. Not only did they amaze everyone with their chilling skills,
Frostbite also provided a few sprinkles of wisdom when sharing their favorite things about roller derby;
It helps you to build confidence in yourself;

Provides an escape from your personal struggles;

Offers a helping hand through struggling with mental health, and most of all;

Welcomes you into a supporting community filled with caring people. 
How wholesome. Now, onto that hard hitting derby action we all came out for!
Dagger Dolls v. Atomic Bombshells Part I
The first official bout of Season 16 saw the Dagger Dolls take on the Atomic Bombshells. Bombshells wasted no time and start off playing smart. Jam 1 saw Peppers use her lead jammer status to call off the jam before the Dolls' jammer was able to break through the defense and pick up points. Straight off the bat and all throughout the bout, both teams put up a strong defense. In jam 5, Madame de Stompadour took a star pass, only to be sent to the penalty box shortly after, triggering a power jam for the Dagger Dolls. Amazingly, the Dolls were able to fare quite well with only two blockers playing offense and defense simultaneously. Lola Frequency and Oh Geez! fended off the Bombshell pack and paved the way for Little Rascal to pick up 11 points. The excitement didn't stop there – in jam 6, Bombshell jammer Velvet Wench was held by a Dolls tripod, unable to break through or pass the star for the entire jam. Dolls jammer itchesbtrippin had her speed checked by appropriately-named Speed Rita with a hip check. Dolls jammer Fanny Smack was no match for Bombshell blockers Riotchu and General Hugs in jam 9, getting recycled a total of three times before being sent to the penalty box for cutting the track. Jam 10 started with one blocker from each team in the box, and just as we saw earlier, Velvet was unable to break through the defense, only this time Kung POW Bitchin' got sent to the box for a forearm penalty. Dagger Dolls mostly maintained their lead over the Bombshells for this first half, but it was still too close to call.
First half score: Dagger Dolls 62 – Atomic Bombshells 49.
Garda Belts v. Rockits Part I
Echoing the Mini-Tournament finale in October, the Gardas had another chance to hit the Rockits off their course. The first half started a little slow, a few pileups here and there, with lead jammers ending the jam early to prevent the opposing team from scoring. A Rockit power jam in jam 5 looked promising, but a tough Garda tripod prevented jammer Bri Zuss from racking up points. Bizzquick of the Gardas had two firsts in a row during jam 6: first time getting lead jammer, promptly followed by a first penalty box visit for a back block on Polly Pocketknife. The Gardas were able to take the lead over the Rockits in jam 8, as R.I.P.unzel skirted through defense to gain 8 points. But the Rockits were just getting started. In jam 9, even Baller's glittering romper wasn't enough to send Bri Zuss into a daze, who slipped by Garda defense a total of 6 times, with 3 apex jumps, earning a whopping 20 points! The final jam of the first half looked promising for the Gardas when Homo Erratic got sent to the penalty box on a track cut, initiating a power jam. Unfortunately, R.I.P followed in Rat's toe-stops and was sent to the box for a track cut as well.
First half score: Garda Belts 51 – Rockits 87.
Dagger Dolls v. Atomic Bombshells Part II
After a rockin' halftime show courtesy of She Rock She Rock, the skates returned to the track. Bombshells' blockers brought their beef to the second half – literally. Barbell Fett, known as "Beef" to her friends, knocked down Pretty Rackless pretty effortlessly while also fending off Dolls jammer Fanny Smack in jam 4. Their tricky tripod work prohibited Fanny from reaching the Pivot Line for the first minute and a half of the jam! Peppers wasn't having any more luck with the Dolls tripod, both jammers had not made more than two passes around the track the entire jam. Bombshells were only down by 15 points at the start of jam 5, but POW knocked the Bombshells down to size by knocking Jeffrey Bomber into the inside line just as she thought she was breaking through the Dolls' defense. Bombshells played great offense during an orange power jam in jam 7, creating a wall on the inside path to allow Riotchu to slip by. All that rough body colliding was broken up by a dance party courtesy of Donna Summer's "Hot Stuff" as officials were deliberating just before jam 9. With the score being so close at Dagger Dolls 82 – Bombshells 78, it certainly was the time for celebrating. With four minutes on the period clock, Hurtrude Stein wasn't able to get through the Dolls' defense and take advantage of their power jam while Dolls jammer VK was in the box. The nail-biting game came to a close with Dagger Dolls managing to maintain their lead.
Final score: Dagger Dolls 103 – Bombshells 92.
Garda Belts v. Rockits Part II
Gardas did not come to mess around, and this was evident from the first whistle. Baller and Burly held Polly Pocketknife – jammer for the Rockits - at bay in jam 4. Bri Zuss attempted her umpteenth apex jump, only Booty Trap said "no, thank you" and knocked her out hard on the inside line. Rat got through the pack with some tricky toe stop work, earning an incredible 27 points for the Rockits in jam 6. With less than 10 minutes on the period clock, Rockit jammer Screamy Dreamy spent most of jam 10 in the penalty box, having been sent their twice. Delilah Diamond and her offense took advantage and grabbed 18 points.
Despite the Garda's best efforts, the Rockit jammers repeatedly snatched the lead, outscored their Garda counterparts, and kept the green machine at bay through good clock management.
The night ended with the glittering Garda jammer Baller gliding around the track; the sight was the cherry on top of a crazy second-half sundae.
Final score Garda Belts 106 – Rockits 170.

 
Bring your holiday cheers and jeers to the next bout on Saturday, December 21st: Don't Kramp My Style.