Feb 26, 2020 | Bout News
Bout Recap – Somebody To Shove – 02.15.2020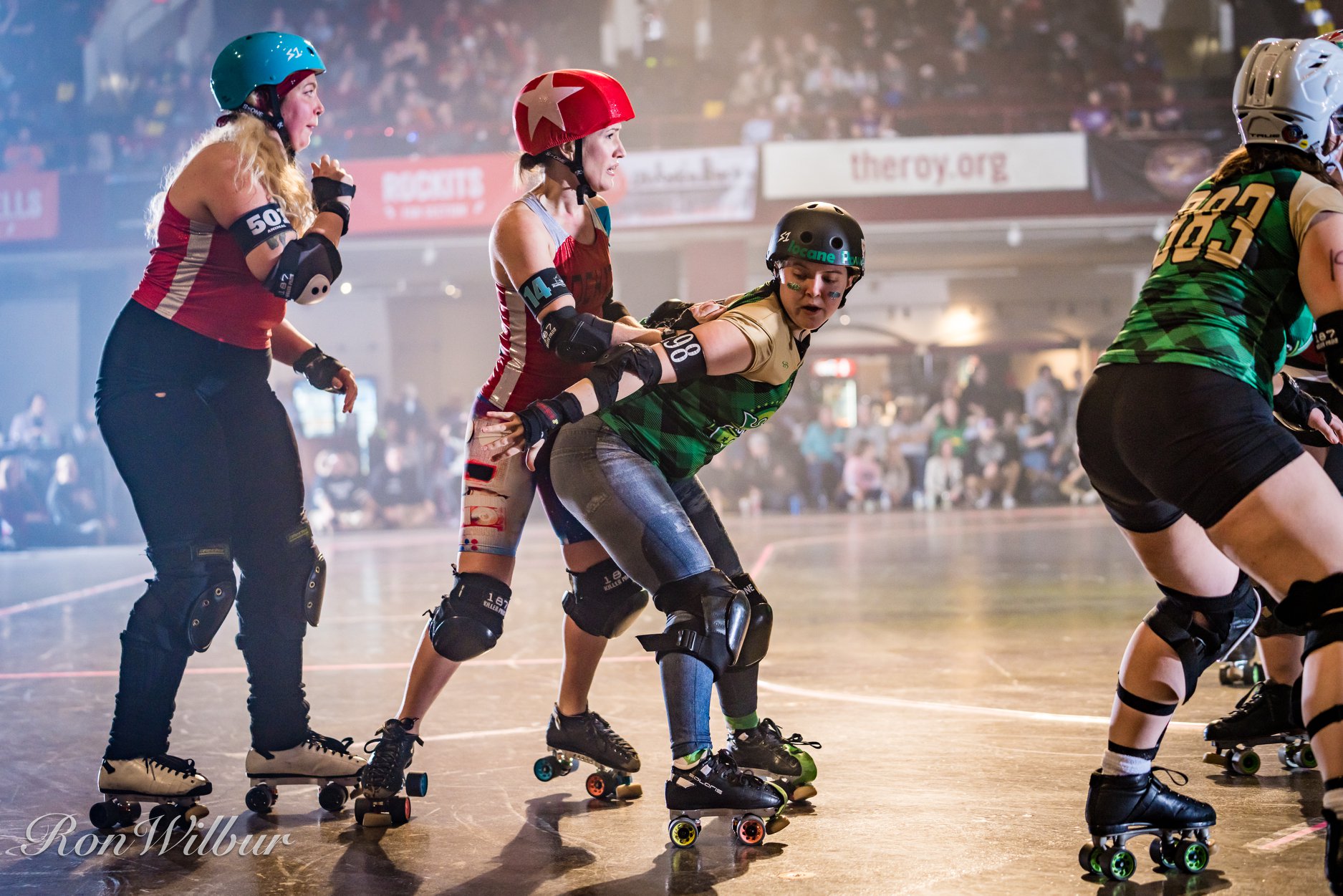 VALENTINE'S DAY BOUT: SUMMER SHOVIN' HAPPENED SO FAST.
Written by Sana Sandra "Squirrelly" Karbal
The Minnesota Roller Derby Season 16 Semi-Finals was kicked off by a mini demo bout courtesy of
Frostbite
, MNRD's competitive junior roller derby program for skaters aged 4-17. If you know a fiesty youth who'd like to learn the sport, or would like to take part in a drop-in skillwork session, bring 'em on down to the Legendary Roy Wilkins Auditorium in St. Paul, MN. Now, let the fight for a chance at the Golden Skate commence... 
Rockits vs. Garda Belts Part I
Christmas came a little late, or perhaps early, when both of these teams took to the track in a blaze of fiery crimson and glittery green. Rockits took charge immediately, having gotten lead jammer every jam until the 5th when Switch snatched it up with a wave and grace, finally putting Gardas on the board with 3 points. Garda jammer and co-captain Delilah Diamond continuously wove, shoved, and broke down the Rockits defense in jam 6. Sometimes penalties happen, and jam 8 saw both jammers quickly get sent to the box shortly after the whistle. Luckily, Switch's penalty time ended as soon as Bri Zuss' started, meaning both skaters served an abbreviated penalty. There'd be no point in derby without jammers on the track, literally! Things were looking up in jam 10, when Animal was dealt a penalty for tumbling with Bizzquick, potentially making things easier for the Gardas. But, both teams' defensive skill levels were obvious when jammers anne T. fascism of the Rockits and Diamond had difficulty making it past the opposing teams' tripod in jam 11. Don't let the full-contact fool you, we're all friends, both on the track and off, as the Ish and Switch delightfully reminded us with shrugs and hugs in jam 13. Rockits maintained their narrow lead until jam 17, when Switch racked up a massive 16 points to tie up the game at 55. In the next and final jam of the half, Diamond eked out 3 points to snatch the lead for the Gardas while Rockit jammer Moose sat in the box.  
First half score: Rockits 55 - Garda Belts 58
Dagger Dolls vs. Atomic Bombshells Part I
While the previous first half gave us Christmas flashbacks, this beautiful color combination of pink and orange gave us a little taste of summer sorbet. It was most likely not planned but I appreciate the little detail nonetheless. We saw our first pivot line start of the season when Bombshell jammer T-Wrecks started jam 2 as the only jammer on the track. Jam 4 was a 2-2 jam, putting the Bombshells on the scoreboard with 2 points to the Dolls' 12. Both itches and Stompy were getting held up by tripods, but Duggy was there to give a little offense help, letting itches snatch 4 points up. Little Rascal had only a slightly tougher time in turn three of the next jam. With the score margin growing, the Bombshells called an official timeout to regroup and strategize. Luckily, during a power jam for the Bombshells in jam 8, Doll blocker Pow held T-Wrecks a little too long and got sent to the penalty box for it. This changed the momentum of the first half and the Bombshells were able to regain their momentum! Pow got sent to the box on a second penalty for the night in jam 12, upping the intensity of this first half. The Bombshells kept up the fight but the Dolls weren't going to make a comeback easy. After a few more pile ups and penalties, the first half ended with the Bombshells trailing behind the Dolls by 34 points, the largest point differential of the half.
First half score: Dagger Dolls 73 - Atomic Bombshells 39.
Rockits vs. Garda Belts Part II
Local and loved rock and blues band
The Shackletons
played the halftime show! After a sweet jam sesh - a different jam took to the track. 
The score stayed pretty close during the beginning of the second half and the Gardas maintained their lead by mere points. Jam 8 ended with the Gardas having a one point lead over the Rockits, which means nothing in the fast paced game of roller derby. In Jam 10, Brutal Brit drew a back block call on R.I.P, which triggered a power jam for the Rockits, only for Rockit jammer Bri Zuss to be handed a penalty as well and the Gardas to be handed a power jam. With only 10 minutes left on the period clock, Gardas were in the lead by 11 points. Jam 12 ended with a sweet little skate tangle between Moose and Baller; this was the Valentine's Day bout after all. Gardas were down a blocker in the penalty box during jam 14, which made it easier for Bri Zuss to slip by and switch the lead over to the Rockits with a 15-point jam. Brutal Brit was dealt a high block penalty for colliding with Ginger Snap in jam 15, ouchie. As this nail-biting game came to its close, the Rockits capitalized on their jam 14 lead change and maintained a steady scoring pace. Despite the Gardas' best efforts, the Rockits were victorious and will head on to the championship finals!
Final score: Rockits 113 - Garda Belts 94.
Dagger Dolls vs. Atomic Bombshells Part II
Both teams were strong on defense, putting up tough tripods, making it harder for jammers to get through and score. Fanny and Jeff had a hard time getting through their opposing blockers in jam 5. Fanny finally broke through for lead jammer after using her stamina to continuously switch from inside line to outside line, wearing down the Bombshell blockers. T-Wrecks used her toe stops to tiptoe around the Dolls twice in jam 6, setting the stage for a massive upheaval. The bombshells shut down Dollie jammers for an astonishing 10 jams in a row! Meanwhile, Bombshells regrouped again during their second team timeout of the night. Bombshell jammer Velvet Wench put a lot of faith in her blockers during jam 12 to hold off Little Rascal with just enough time to grab two points before Rascal scored any. Peppers came in hot during jam 13 and made several successful scoring passes, shrinking that margin even more. By the time EsmerHellda got the Dollies rolling again with 2 points after taking a star pass, the Bombshells had made a fiery 39-point comeback and narrowly took the lead. Oh, but wait, then there was another lead change! Aaaaaand, then there was yet another lead change! And this one was for reals, as pivot Duggy was headed to the box with the star in hand, triggering a power jam for the Bombshells! This was exactly what they needed. Peppers grabbed 9 points to secure the final lead change and a spot in the championship bout against the Rockits!
Final score: Dagger Dolls 101 - Atomic Bombshells 109.
Come watch these teams fight tooth and nail for a chance at a bite of the Golden Skate! Next bout: Turning the Tides: Home Team Championships! Saturday, March 7th.