Apr 1, 2020 | Bout News
Bout Recap – Season 16 Championship Bout – 03.15.2020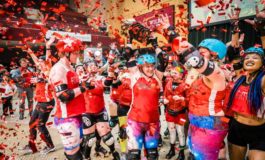 GIMME THAT GOLDEN SKATE!
Written by Sana Sandra "Squirrelly" Karbal
Instead of the usual Derby 101, the Roy Wilkins Audience was treated to mini-bouts by the Windchill L4 team, as well as the Frostbite junior league competitive team. If you enjoyed what you saw – don't hesitate to reach out to us to join the Summer Season! You'll be enveloped in a warm hug of camaraderie, gnarly bruises, and sick-ass skating skills! What more do you want from life?
Before we begin with the Championship Bout antics, I'd like to take a few moments to recognize our dearly beloved skaters who retired now that Season 16 has come to a close. They've skated their hearts out for many years with MNRD, and their talent was on full display to the wonderful crowd of fans, friends, and family during their final bout with their home teams.
Shock Therapy of the Dagger Dolls,

played roller derby for 11 years, 3 of which were with MNRD

Madame De Stompadour of the Atomic Bombshells,

played roller derby for 12 years, 11 of which were with MNRD

Messi Jigler of the Atomic Bombshells,

played roller derby for 11 years, 8 of which were with MNRD

-

Animal of the Rockits,

played roller derby 12 years, 5 of which were with MNRD
We hate to see you go, but we loved having you skate with us! Now… onto that Championship night business… 
Third Place Bout: Dagger Dolls vs. Garda Belts 
Changing it up from the usual program, all four teams played two full bouts. That's 50 minutes of skating time, with a 10 minute break for the teams to strategize, regroup, and hydrate. The Dagger Dolls hit the track with intensity, making it clear this would not be an easy battle. 
Jam 4 saw a burst of excitement from the crowd, as Garda co-captain Delilah Diamond snuck through the inside line, avoided Dolly blockers, getting the first lead jammer status for the Green Gardas, and putting the Gardas on the scoreboard with 4 points against the Dolls' 9. But the Dolls doubled-down on defense, tying up the green jammers while their own steadily increased their lead. 
In jam 8, Just Barb not only knocked jammer Diamond hard out of bounds, she also strategically drew Diamond back, wasting her time that could be spent snatching points. Switch unfortunately lived up to her name in jam 9, as a power jam in her favor quickly switched over to a power jam for the Dolls when she was sent to the box for a track cut penalty. Little Rascal thought she had jam 11 in the bag as the only one on the jammer line as the whistle blew, but while she was held back by Baller and RamPaige, R.I.P.unzel snuck out of the penalty box and scooted through the pack! Only 4 points were scored for Gardas in that jam but holy guacamole it was an exciting moment. 
It didn't stop there as Delilah got lead jammer again with only Ida Sockher and Crust on the track as her Garda blockers. Switch lived up to her name one more time and scored a whopping 16 points, and a lead change switched over into the Gardas favor in jam 16! Sadly, it didn't last long as Shock Therapy seized a few points, switching the lead yet again. 
Dolly jammer Fanny scooted by to get lead jammer status in the final jam of the half, but it was a 0-0 jam. The Dagger Dolls went into the 10 minute break with a very small 6-point lead over the Gardas. And as we say in roller derby, anything can happen…
The second half of the bout to settle third place in the Championship started off with a crowd-pleasing dance off between Baller and Doll mascot Skippa Beatz to the tune of "Super Freak" by Rick James during an official timeout. Both teams kept up the fight, but the Dolls steadily continued to out-score the Gardas. 
Defense was top notch during jam 6 as R.I.P. and itches had a near impossible time getting through the opposing teams' tripods. Lateral moves, toe stop work, and juking are all tools in a jammers toolbox that are regularly used during fast-paced jams! 
The pack took quite a tumble on turn 1 in jam 9, but the score closed in with only a 21-point lead for the Dolls. The clock ticked on, and things looked sunny for the Dolls! With less than 6 minutes left, the penalty box was filled with green. Jam 16 sealed the deal for the pink punks when Diamond got a penalty, triggering a power jam for the Dolls. 
Switch's stellar 24-point full two minute jam wasn't enough for them to win it back, but damn did the Green Machine go out trying. Shock Therapy played her last jam for the Dagger Dolls, and retired knowing she had a part in them winning third place in the Championship. We do love a good heart-warming moment, don't we?
Final score: Dagger Dolls 154 - Garda Belts 130. 
First Place Bout: Atomic Bombshells vs. Rockits
After local rock band
the Von Tramps
played an awesome halftime show, the fight for first place commenced. Boy oh boy, the energy from the crowd was palpable! The team-specific seating sections were alive with cheers, jeers, and signs homemade with love. Perhaps we're biased, but MNRD fans really are the best. 
Things started slowly at first, both teams clearly were hungry for that Golden Skate - NOT the Gilded Steak, the award for the Mini-Tournament. The Rockits started the game with an imposing set of blockers and a tricky jammer on the line in an effort to prevent the early point deficits that had plagued the team most of the season. The plan worked, and the Rockits were able to blast into this one with a strong start.
Five jams in and things were still tied with an 8-8 score. Hurtrude Stein took advantage of Rat being in the penalty box to grab some points during her 30 second penalty. Rat made up for it though, snatching up a crazy 24-points in jam 7 while Wheelie Nelson was stuck behind a wall of red. 
Jam 8 got a little feisty with some totally legal, totally rare, and totally thrilling jammer-on-jammer action. Rockit jammer Moose dealt a hard hit to Bombshell jammer Jeff, strategically earning her team 20 points that jam. 
A collection of skater penalties for the Bombshell skaters and power jams in favor of the Rockits meant that the Rockits inched further and further ahead, eventually outpacing the Bombshells two-to-one at 85-42 with 9 minutes left on the period clock. But holy hell, jam 15 saw one of the more impressive hits of the season when Trudy knocked Killer Bea practically into the crowds' laps. 
A penalty box full of Rockits towards the end of the first half was exactly what the Bombshells needed to bring it back, closing the gap to only a 30-point lead for the Rockits. 
The brief intermission was followed by the skaters returning to the track somehow even more riled up. Both teams' defense was determined, but the jammers weren't making it easy either. Jam 5 saw Peppers juking literally left, right, and center to get around the tough Rockit tripod consisting of blockers Killer Bea, Whacks, and Polly Pocketknife. Similar fancy footwork was seen again a few jams later in jam 7 when it took almost a minute and twenty seconds for Bri Zuss to get through and grab the unclaimed lead jammer title. The Bombshells slowly chipped away at the Rockits' lead and neither team was slowing down.
Rockit newbie Nerdzilla demonstrated her serious blocking skills as she went head-to-head with Velvet in jam 8. After a brief official timeout, Peppers shook MeshugEnough up with a tough shoulder hit. 
A Bombshell lead change looked possible as jam 9 came to a close and the Bombshells trailing just 14 points behind.  Unfortunately, orange jammer Jeffrey Bomber received multiple track cut penalties in jam 10 and 11. Rockits took advantage to coordinate their offense and jammer Rat grabbed an impressive 19 points, widening the point differential yet again.   
Rockits kept up the momentum and used their offense and defense strategically, consistently adding to their lead. The Bombshells put up a hell of a fight, but the Rockits remained undefeated for the season and won the Golden Skate for the second year in the row!!! 
Final score: Atomic Bombshells 107- Rockits 148.