Saturday April 1st, Spring Equi-Knocks: MNRG All-Stars vs. Philly Roller Derby, @Roy Wilkins Auditorium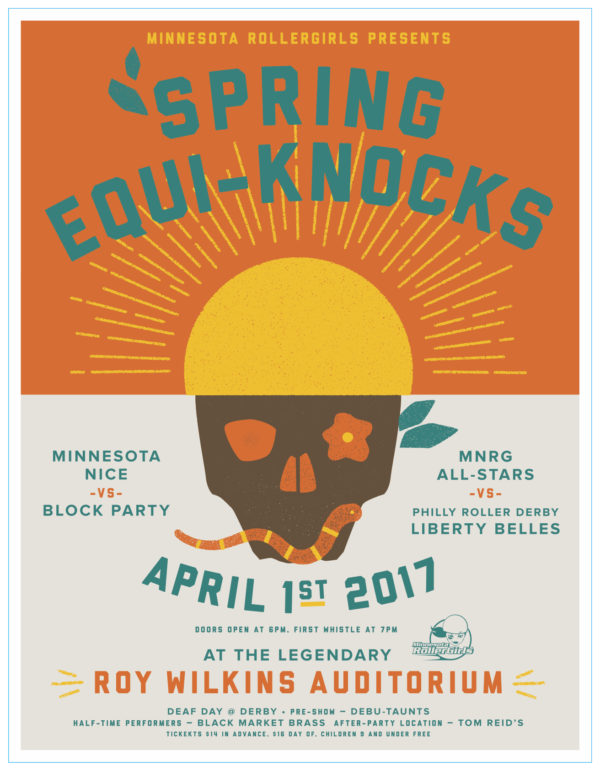 Our final bout of the season will feature our entire All-Star program. In the first bout of the evening, the Minnesota Nice, our All-Star program B-Team, will take the track against the Philly Roller Derby Block Party. In the second bout of the evening, watch the Minnesota RollerGirl's All-Stars, one of the best teams in the world, do what they do best! They'll battle it out against the Philly Roller Derby All-Stars. You don't want to miss this high level and exciting derby!
DETAILS
Saturday, April
Doors at 6:00pm, Bout at 7:00pm
The Legendary Roy Wilkins Auditorium
FEATURED ENTERTAINMENT
Our pre-show will feature our Minnesota RollerGirls premier training program, the Debu-Taunts. Whether you're looking for a recreational way of learning the sport or a serious training challenge, the Debu-Taunts program has something for you! For more information, click here.
Our half-time show is will feature the sounds of Black Market Brass! Despite hailing from the arctic tundra of Minneapolis, Black Market Brass sizzles with an eclectic blend of cool, deep funk and driving Afrobeat grooves that will lure you to the dance floor and never let you leave.
GET THERE EARLY, GET A FREEBIE
We'll be giving away a special limited edition Minnesota RollerGirls t-shirt to the first 200 people in the doors. There will also be a very limited quantity for sale. When they're gone, they're gone, so get there early!
GET A BLACK EYE OR SHOW YOUR TEAM SPIRIT
Get old fashioned black eyes for $1 at our Black Eye Booth, or support your favorite home team for a $2 donation (kids always free!). If you think we've done an exceptional job, a more generous donation is always appreciated. All proceeds go to our Black Eye Booth charity of the evening, Deaf Equity.
AFTER PARTY
Join us after the bout at Tom Reid's Hockey City Pub to hobnob with your favorite rollergirl!
BOUT CHARITY
Our season long charity is the Ann Bancroft Foundation's Let Me Play Grant which funds athletic & dance equipment or participation fees for girls ages 5 through high school graduation, giving them the opportunity to be part of a team, build strength and confidence, and push themselves farther—on the field and off.
DOOR CHARITY
Each bout, we select one worthy cause to support. This evening, we'll be support Deaf Equity, which works at advancing equity and access for diverse communities of Deaf, DeafBlind and Hard of Hearing through Education, Civic Engagement, Empowerment and Advocacy. Deaf Equity also specifically supports deaf, deafblind, and hard of hearing immigrants who come to Minnesota in search of a better life and access to education. The organization also supports deaf, deafblind and hard of hearing survivors of domestic violence and sexual assault by helping them to rebuild their lives.
TICKET DISCOUNTS
At the door only, bring your valid student ID to receive a $2 discount.
In addition, we typically collect items to support our door charity to receive a $2 discount off your ticket at the door. This evening, we'll be collecting a number of items to support Deaf Equity in their services of deaf, deafblind, and hard of hearing immigrants to Minnesota and survivors of domestic violence and sexual assault. Those items include bus passes, gas cards, jackets, clothing for any age, notebooks, pens, paper, food cards, lip balm, books on Minnesota life and navigating Minnesota, interview specific clothing, planners, calendars, yoga mats, yoga blankets, and yoga blocks for Trauma Yoga, and shoes.
(one discount per person/per ID or donation).