Friday June 7th, The MNRG All-Star Program Presents: Have a Nice Day!, @Doug Woog Arena Join On Facebook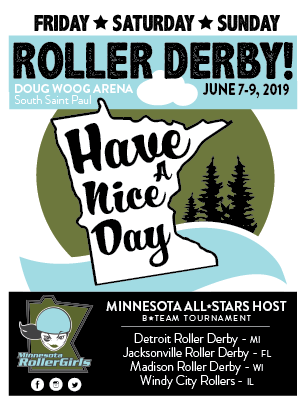 Join us at Doug Woog Arena in South St. Paul for an invitational tournament hosted by the Minnesota RollerGirls!
This fun and exciting weekend will feature competitive match-ups from Detroit, Jacksonville, and Madison for our incredible B-Team, the Minnesota Nice, as well as a Saturday night headliner bout featuring both the Minnesota Nice and your Minnesota All-Stars as they take on the Windy City Rollers B and A teams respectively!
To cap it all off, our junior roller derby team MN Frostbite will be playing on Sunday afternoon!
Doug Woog Arena
141 6th Street South
South St Paul, MN 55075

Get your tickets today! Link to purchase can be found HERE.
Friday, June 7th:
5:30 Doors Open
6:00 Jacksonville B vs Detroit B
8:00 MN Nice vs Madison B
Saturday June 8th:
10:30 Doors Open
11:00 Madison B vs Windy City B
1:00 MN Nice vs Jacksonville B
Lunch Break
4:00 Detroit B vs Madison B
6:00 MN Nice vs Windy City B
8:00 MN All-Stars vs Windy City All-Stars
Sunday, June 9th:
9:30 Doors Open
10:00 Jacksonville B vs Madison
12:00 Windy City B vs Detroit B
2:00 MN Frostbite vs TBD (Junior Roller Derby)
Busy? On vacation? Trapped in a state other than Minnesota? Follow the live stream at tv.mnrollergirls.com!