Saturday October 5th, Roll Call! – A Home Team Mini-Tournament, @Roy Wilkins Join On Facebook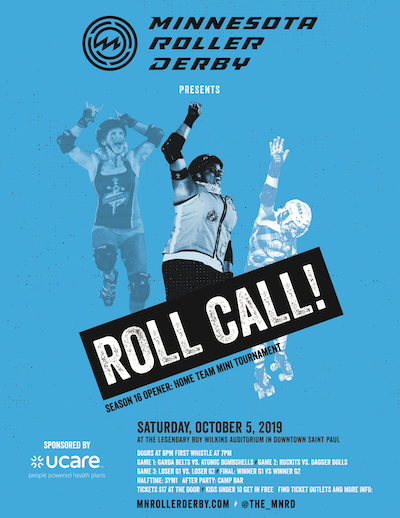 We're kicking off Season 16 right by hosting a mini-tournament that puts each of our four home teams into competition mode immediately! See where your favorite home team falls as the Gardas, Bombshells, Dolls and Rockits battle it out in hopes of raising the Gilded Steak at the end of the night. What's a Gilded Steak you ask? It's the prestigious award given to our annual home opener mini-tournament victor, and acts as a a preview for who might ultimately raise the Golden Skate at the end of Season 16!
DETAILS
Saturday, October 5
Doors at 6:00pm, Bout at 7:00pm
The Legendary Roy Wilkins Auditorium
GET THERE EARLY, GET A FREEBIE
We'll be giving away a special limited edition Minnesota Roller Derby t-shirt to the first 200 people in the doors. There will also be a very limited quantity for sale. When they're gone, they're gone, so get there early!
FEATURED ENTERTAINMENT
Our half-time show will feature SYM1. SYM1, formerly known as Symone Smash It, is currently blowing up. Claimed to be the 'EDM pop maven' of the Twin cites, SYM1 takes pride in reigniting the twin cities pop scene. Outsiders looking for a good time will find SYM1 a meteoric pop dream machine that bops hard!
AFTER PARTY
Join us after the bout at Camp Bar for a good old fashioned derby after party!
BOUT CHARITY AND DOOR CHARITY
Community Involvement is a core belief that makes Minnesota Roller Derby who we are. We believe in community and work to better ours through volunteering and donations. We fiercely support the causes and groups that are important to us and are grateful for our fans who support us and help us do so. In that spirit, every season we support a season long bout charity that we love and believe in. Additionally, we identify one new worthy cause each bout to support as our door charity.
Out bout charity for Season 16 is the Ann Bancroft Foundation Let Me Play Grant Program which funds athletic equipment or participation fees for girls ages 5 through high school graduation, giving them the opportunity to be part of a team, build strength and confidence, and push themselves farther—on the field and off. We love the Ann Bancroft Foundation and the amazing work they do to empower girls in athletics!

In addition to our season long charity, each bout we collect items at the door to support our door charity of the evening. Proceeds from our Tattoo and Team Spirit are also donated to this worthy cause. Tonight's door charity is JustUs Health. JustUs Health fights to end HIV and reach health equity for LGBTQ and HIV-positive communities. Serving thousands of Minnesotans a year, they educate the community about HIV prevention, assist and support those living with HIV, and advocate for health system changes to improve care for our HIV-positive and LGBTQ communities.
SHOW YOUR TEAM SPIRIT
Get old fashioned black eyes for $1 at our Tattoo and Team Spirit Booth, or support your favorite home team for a $2 donation (kids always free!). If you think we've done an exceptional job, a more generous donation is always appreciated. All proceeds support our Door Charity of the evening, JustUs Health.
TICKET DISCOUNTS
At the door only, bring your valid student ID or Military ID to receive a $2 discount.
In addition, we often collect donations of items to support our door charity for a $2 discount at the door. In support of JustUs Health, we'll be collecting convenient food (such as canned food with pop tops, granola, protein bars, peanut butter crackers, nuts, dried fruit, rice cakes, veggie straws, juice boxes, apple sauce, jerky, pudding, microwave ready food), toiletries (shampoo and conditioner, toothpaste and toothbrush, soap and deodorant, Pocket sized kleenex and wipes, warm compresses and saline solution, razors, combs, brushes, Q-tips, tampons and pads), cleaning supplies and towels.
(one discount per person/per ID or donation).
SEASON TICKETS
Don't forget that season ticket purchases are available up until our first bout of the season, so grab them now! Perks include a $4 discount per ticket versus purchasing at the door, a $25 merchandise credit, option to purchase advance RiverCentre parking, and your pick of prime locations throughout the Roy Wilkins Auditorium. Get information on Season 16 dates and season ticket options here: mnrollerderby.com/season-tickets/
AN EXTRA SPECIAL SHOUT-OUT
A huge thank you to UCare, our fabulous sponsor, for taking over this bout! Look for them in the lobby, and thank them for supporting Minnesota Roller Derby!