Saturday October 10th, Dia De Los Rollers: Home Team Mini-Tournament, @Roy Wilkins Join On Facebook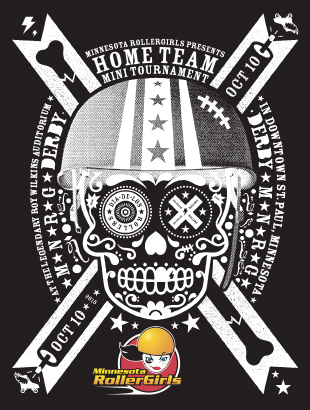 Our Season 12 dates are booked, and we can hardly wait for the excitement to begin! As tradition holds, our first bout of the season will again be a mini-tournament! All 4 home teams will play a round robin tourney to highlight their new rookies and set the stage for another amazing season of roller derby. Mark your calendars!
DETAILS
Saturday, October 10
Doors at 6:30pm, Bout at 7:30pm
The Legendary Roy Wilkins Auditorium
FEATURED ENTERTAINMENT
Our pre-show will feature skater trivia to get you familiarized with some of our new rookies and transfers! How much do you know about your favorite rollergirl? Our half time band will showcase the funky grooves of Pocket Watch! These 9 ladies provide tight rhythms, solid mobile horns, and infectious vocals that shift from sultry and mesmerizing to an unbridled powerhouse of sound. You won't want to miss them!
GET THERE EARLY, GET A FREEBIE
We'll be giving away a special limited edition Minnesota RollerGirls t-shirt to the first 200 people in the doors. There will also be a very limited quantity for sale. When they're gone, they're gone, so get there early!
GET A BLACK EYE OR SHOW YOUR TEAM SPIRIT
Get old fashioned black eyes for $1 at our Black Eye Booth, or support your favorite home team for a $2 donation (kids always free!). If you think we've done an exceptional job, a more generous donation is always appreciated. All proceeds go to our Black Eye Booth charity of the evening, the Minnesota Girls Baseball Association.
AFTER PARTY
Join us at Camp Bar after the bout to hobnob with your favorite rollergirls!
BOUT CHARITY
Our season long charity is the Ann Bancroft Foundation's Let Me Play Grant which funds athletic & dance equipment or participation fees for girls ages 5 through high school graduation, giving them the opportunity to be part of a team, build strength and confidence, and push themselves farther—on the field and off.
DOOR CHARITY
Each bout, we select one worthy cause as our door charity for the evening. Tonight, our door charity is the Minnesota Girls Baseball Association, whose mission is to open the door for female involvement with baseball as players, coaches, umpires, and fans. The Minnesota Girls Baseball Association was founded to help challenge gender barriers in the simplest way possible: by getting more girls to play baseball. They firmly believe that girls should have the option to play baseball if they want to instead of being channeled away from the game.
TICKET DISCOUNTS
At the door only, bring your valid student ID to receive a $2 discount. In addition, we often collect items for our door charity for a $2 discount. This time around, we'll be collecting new baseballs as well as new or gently used baseball gloves for kids ages 7-14 to support the Minnesota Girls Baseball Association.