Saturday March 30th, Skate Like UCare: Home Team Championship, @Roy Wilkins Join On Facebook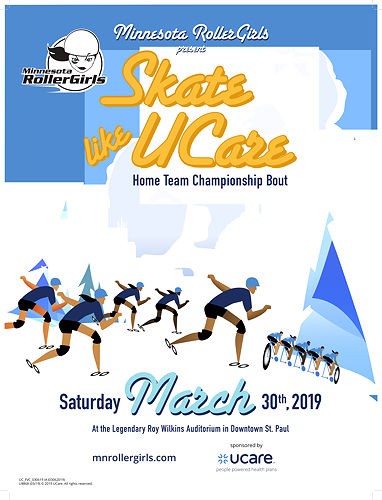 This is it folks...the big one! Missing out is not an option!
Tonight will feature our third place game (Bombshells vs. Dolls) followed by our Season 15 Championship bout (Gardas vs. Rockits).
The winner of our Championship will take home the coveted Golden Skate. This is not a drill! Nothing gets a Minnesota RollerGirl more ready to skate fast, hit hard, and dig deep than the thrill of raising that glorious trophy high above their head!
DETAILS
Saturday, March 30
Doors at 6:00pm, Bout at 7:00pm
The Legendary Roy Wilkins Auditorium
FEATURED ENTERTAINMENT
Our pre-show will feature the Minnesota RollerGirls Juniors skaters, the Frostbite! Our juniors serves skaters ages 4-17. While they might be young, they pack a full sized punch!
Our half-time show will feature The Bad Man. Named a Best New Band of 2017 by First Avenue and fronted by one of the Twin Cities' "most dynamic and devilish rock 'n' roll frontmen" (per Chris Riemenschneider of the Star Tribune), The Bad Man is no stranger to fun. Known for their unpredictable and adrenaline-fueled performances, the band delivers a danceable, rowdy rock sound driven by guitar, saxophone, and a back-alley bounce!
GET THERE EARLY, GET A FREEBIE
We'll be giving away a special limited edition Minnesota RollerGirls t-shirt to the first 200 people in the doors. There will also be a very limited quantity for sale. When they're gone, they're gone, so get there early!
SHOW YOUR TEAM SPIRIT
Get old fashioned black eyes for $1 at our Tattoo and Team Spirit Booth, or support your favorite home team for a $2 donation (kids always free!). If you think we've done an exceptional job, a more generous donation is always appreciated. All proceeds support our Tattoo and Team Spirit Booth charity of the evening, Purple Playground.
AFTER PARTY
Join us after the bout at Tom Reid's Hockey City Pub hobnob with your favorite skaters!
BOUT CHARITY
All season, we are supporting the Ann Bancroft Foundation's Let Me Play Grant which funds athletic & dance equipment or participation fees for girls ages 5 through high school graduation, giving them the opportunity to be part of a team, build strength and confidence, and push themselves farther—on the field and off. We love the Ann Bancroft Foundation and the amazing work they do to empower girls in athletics!

In addition, we will also be supporting the Wildlife Rehabilitation Center of Minnesota all season long. The Wildlife Rehabilitation Center of Minnesota provides quality medical care and rehabilitation for all injured, sick and orphaned wild animals, and shares its knowledge with the people who care about them.
DOOR CHARITY
Our door charity of the evening is Purple Playground. Purple Playground envisions a world where Prince's legacy of positivity and giving continues in perpetuity. They are a fan-based group developed to honor Prince's legacy and to provide as he did - with funds from their events used to create an Academy of Prince music program for teens. Last summer they launched "Academy of Prince" summer music program. 13-16 year old students learned Prince history and wrote and recorded their own Prince inspired songs in a professional studio, with help from members of The Revolution and The Time. Purple Playground also unites, inspires and creates community through free and low cost events thanks to fan donations.
TICKET DISCOUNTS
At the door only, bring your valid student ID or Military ID to receive a $2 discount.
In addition, we often collect donations of items to support our door charity for a $2 discount at the door.
Tonight, we'll be collecting pillowcases and large bath/beach towels without holes or fringed edges, canned air, 3-4" wide masking tape (not the thin masking tape) or gift cards to Fleet Farm or Joe's Sporting Goods to support the Wildlife Rehabilitation Center of Minnesota.
We'll also be collecting composition notebooks or journals, songwriting notebooks, purple pens, pencils and erasers, pencil cases, tootsie pops and decorative stickers to support Purple Playground.
(one discount per person/per ID or donation)