Saturday February 15th, Somebody to Shove: Home Team Semi-Finals, @Roy Wilkins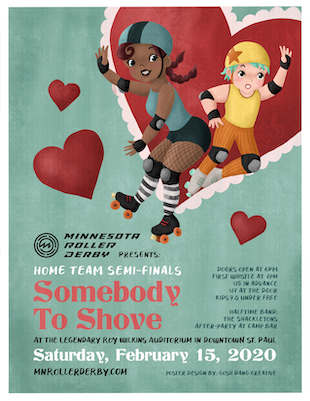 Alright, it's semi-final time which means there's no holding back. The winner from each bout this evening will move on to play in our Championship bout in March and earn a chance at raising the Golden Skate high above their heads. If you see harder hits, bigger apex jumps, or stronger formations, don't be surprised. Every skater is dreaming of Golden Skates and glory, and even the most seasoned derby player can't resist leaving it all on the track tonight!
DETAILS
Saturday, February 15
Doors at 6:00pm, Bout at 7:00pm
The Legendary Roy Wilkins Auditorium
GET THERE EARLY, GET A FREEBIE
We'll be giving away a special limited edition Minnesota Roller Derby t-shirt to the first 200 people in the doors. There will also be a very limited quantity for sale. When they're gone, they're gone, so get there early!
FEATURED ENTERTAINMENT
Our pre-show will feature an exhibition bout by our very own junior roller derby team, the Frostbite! Big hits come in small packages!
Our half-time show will feature The Shackletons. "Imagine Conor Oberst with a John Belushi attitude, fronting the Hold Steady." - Jay Gabler (89.3 The Current)
... Enough said.
AFTER PARTY
Join us after the bout at Camp Bar for a good old fashioned derby after party!
BOUT CHARITY AND DOOR CHARITY
Community Involvement is a core belief that makes Minnesota Roller Derby who we are. We believe in community and work to better ours through volunteering and donations. We fiercely support the causes and groups that are important to us and are grateful for our fans who support us and help us do so. In that spirit, every season we support season long bout charities that we love and believe in. Additionally, we identify one new worthy cause each bout to support as our door charity.
Our first bout charity of the season is the Ann Bancroft Foundation Let Me Play Grant Program which funds athletic equipment or participation fees for girls ages 5 through high school graduation, giving them the opportunity to be part of a team, build strength and confidence, and push themselves farther—on the field and off. We love the Ann Bancroft Foundation and the amazing work they do to empower girls in athletics!

Our second season long bout charity is JustUs Health. JustUs Health fights to end HIV and reach health equity for LGBTQ and HIV-positive communities. Serving thousands of Minnesotans a year, we educate the community about HIV prevention, assist and support those living with HIV, and advocate for health system changes to improve care for our HIV-positive and LGBTQ communities.
In addition to our season long charities, each bout we collect donations to support our door charity of the evening. Tonight's door charity is YWCA Minneapolis. YWCA Minneapolis offers interactive workshops to help participants understand and combat different forms of racial injustice. Through these events, individuals gain clarity on the impact of racism, oppression and biases — along with actionable steps on how to overcome them.
SHOW YOUR TEAM SPIRIT
Get old fashioned black eyes for $1 at our Tattoo and Team Spirit Booth, or support your favorite home team for a $2 donation (kids always free!). If you think we've done an exceptional job, a more generous donation is always appreciated. All proceeds support our Door Charity of the evening, the YWCA Minneapolis.
TICKET DISCOUNTS
At the door only, bring your valid student ID or Military ID to receive a $2 discount.
In addition, we often collect donations of items to support our door charity for a $2 discount at the door. Tonight we'll be collecting convenient food (like canned food with pop tops, granola, protein bars, peanut butter crackers, nuts, dried fruit, rice cakes, veggie straws, juice boxes, apple sauce, jerky, pudding, microwave ready food), toiletries (shampoo and conditioner, toothpaste and toothbrush, soap and deodorant, pocket sized Kleenex and wipes, warm compresses and saline solution, razor, comb, brush, Q-Tips, tampons and pads), cleaning supplies, and towels for JustUs Health.
(one discount per person/per ID or donation).