Saturday January 18th, The World of Tomorrow Has Arrived, @Roy Wilkins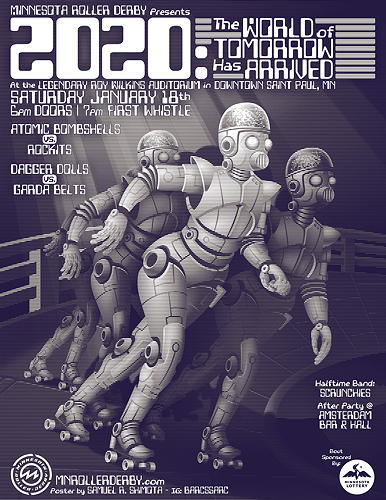 New year, same favorite home teams! Come ring in 2020 with hard hitting, fast, and ferocious roller derby. The Bombshells will be taking on the Rockits while the Gardas battle it out against the Dagger Dolls. This is the last bout of the season to count toward standings, so every team will be fighting to increase their rankings going into the Semi-final bout. Any advantage to tip a team closer to the Golden Skate is worth fighting for. Don't expect us to play nice!
DETAILS
Saturday, January 18
Doors at 6:00pm, Bout at 7:00pm
The Legendary Roy Wilkins Auditorium
GET THERE EARLY, GET A FREEBIE
We'll be giving away a special limited edition Minnesota Roller Derby t-shirt to the first 200 people in the doors. There will also be a very limited quantity for sale. When they're gone, they're gone, so get there early!
FEATURED ENTERTAINMENT
Our pre-show for this bout will feature the Special Olympics Poly Hockey team representing Osseo-Maple Grove, The Storm!.
Our half-time show will feature Scrunchies. Scrunchies is a Minneapolis-based rock band. Their debut album, Stunner, is "filled with catchy hooks and relentless riffs, anthems that worm their way deep into your head, to be shouted loud and often. This is the release of emotions that has no time for sympathy...Scrunchies are here to rip and destroy." - Post-Trash
AFTER PARTY
Join us after the bout at Amsterdam Bar and Hall for a good old fashioned derby after party!
BOUT CHARITY AND DOOR CHARITY
Community Involvement is a core belief that makes Minnesota Roller Derby who we are. We believe in community and work to better ours through volunteering and donations. We fiercely support the causes and groups that are important to us and are grateful for our fans who support us and help us do so. In that spirit, every season we support season long bout charities that we love and believe in. Additionally, we identify one new worthy cause each bout to support as our door charity.
Our first bout charity for Season 16 is the Ann Bancroft Foundation (ABF) which inspires and empowers Minnesota girls to imagine something bigger and reach their full potential. Through grant programs and mentorship, ABF supports girls to identify and pursue their dreams while unlocking their self-confidence along the way. ABF's grant programs, Let Me Play and Dare to Dream, fund Minnesota girls in Kindergarten through 12th grade up to $500 – applications are open two times per year with deadlines on April 1 and October 1. We love the Ann Bancroft Foundation and the amazing work they do to empower girls in athletics!
Our second season long bout charity is JustUs Health. JustUs Health fights to end HIV and reach health equity for LGBTQ and HIV-positive communities. Serving thousands of Minnesotans a year, we educate the community about HIV prevention, assist and support those living with HIV, and advocate for health system changes to improve care for our HIV-positive and LGBTQ communities.
In addition to our season long charities, each bout we collect items at the door to support our door charity of the evening. Proceeds from our Tattoo and Team Spirit are also donated to this worthy cause. Tonight's door charity is Can Do Canines. Can Do Canines is dedicated to enhancing the quality of life for people with disabilities by creating mutually beneficial partnerships with specially trained dogs. Since 1989, Can Do Canines has provided more than 700 assistance dogs to people with disabilities free of charge. Our fully trained assistance dogs are provided to children with autism or other clients who live with disabilities that involve mobility challenges, hearing loss or deafness, seizure disorders or diabetes complicated by hypoglycemia unawareness.
SHOW YOUR TEAM SPIRIT
Get old fashioned black eyes for $1 at our Tattoo and Team Spirit Booth, or support your favorite home team for a $2 donation (kids always free!). If you think we've done an exceptional job, a more generous donation is always appreciated. All proceeds support our Door Charity of the evening, Can Do Canines.
TICKET DISCOUNTS
At the door only, bring your valid student ID or Military ID to receive a $2 discount.
In addition, we often collect donations of items to support our door charity for a $2 discount at the door. Tonight we'll be collecting convenient food (like canned food with pop tops, granola, protein bars, peanut butter crackers, nuts, dried fruit, rice cakes, veggie straws, juice boxes, apple sauce, jerky, pudding, microwave ready food), toiletries (shampoo and conditioner, toothpaste and toothbrush, soap and deodorant, pocket sized Kleenex and wipes, warm compresses and saline solution, razor, comb, brush, Q-Tips, tampons and pads), cleaning supplies, and towels for JustUs Health.
We'll also be collecting smaller dog items like leashes, gentle leaders, collars, and dog toys for Can Do Canines.
(one discount per person/per ID or donation).
AN EXTRA SPECIAL SHOUT-OUT
A huge thank you to MN Lottery, our fabulous sponsor, for taking over this bout! We'd also like to send a huge thank you Vox Law for taking over our penalty box this bout! Thank them for supporting Minnesota Roller Derby!