Saturday March 4th, What is Love: Home Team Championships, @Roy Wilkins Auditorium Join On Facebook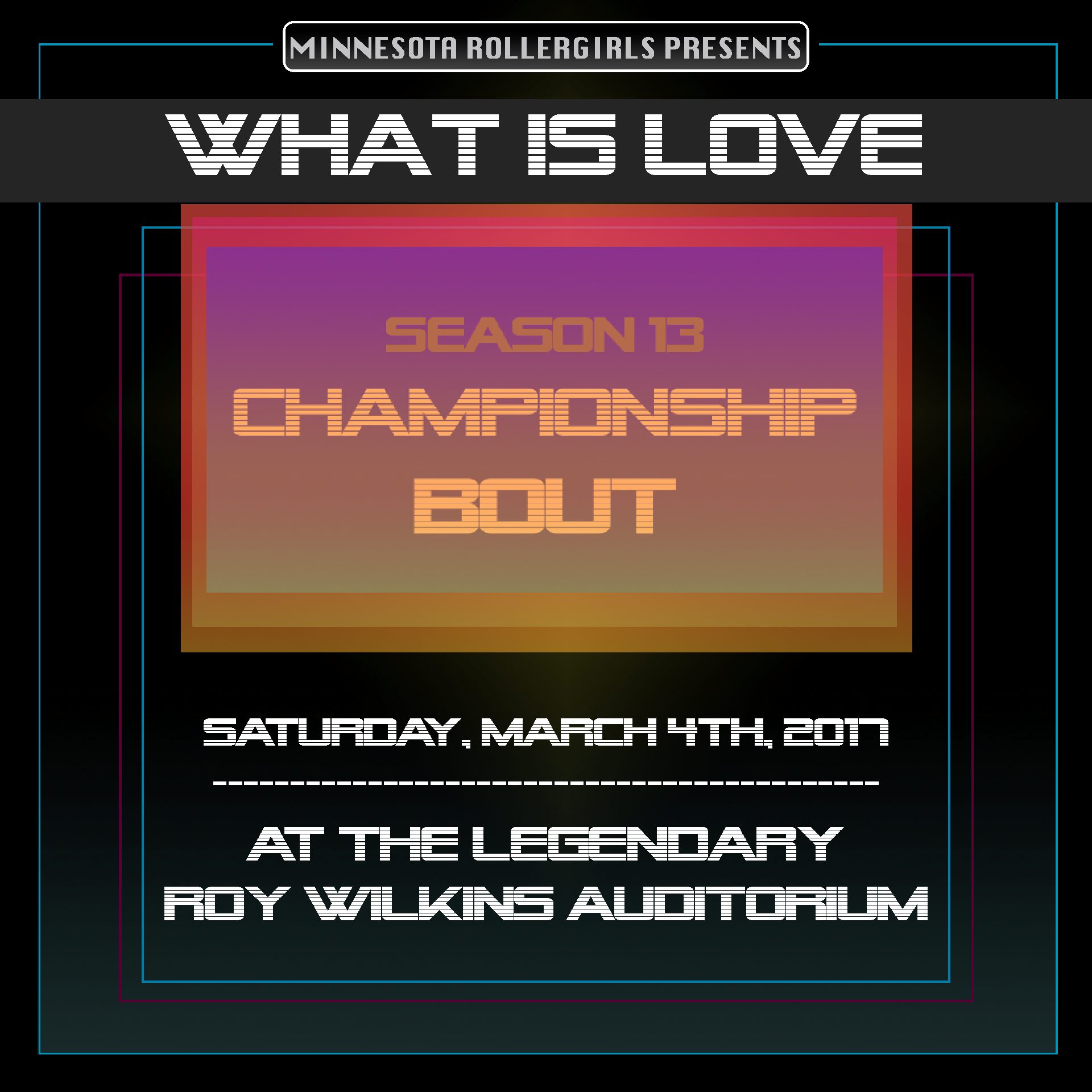 Tonight will feature the big show...the battle for the Golden Skate! Based on the results of last month's semi-final match-up, the first bout will feature the Garda Belts vs. Rockits battling it out for 3rd place. The last bout of the evening will feature an epic showdown between the Dagger Dolls and the Atomic Bombshells, with the winner taking home the Season 13 Home Team Champions title, and of course, the honor of raising the Golden Skate!
DETAILS
Saturday, March 4
Doors at 6:00pm, Bout at 7:00pm
The Legendary Roy Wilkins Auditorium
FEATURED ENTERTAINMENT
Our pre-show will feature our Minnesota RollerGirls premier training program, the Debu-Taunts. Whether you're looking for a recreational way of learning the sport or a serious training challenge, the Debu-Taunts program has something for you! For more information, click here.
Our half-time show is will feature the sounds of Mark Mallman! A pianist-extraordinaire, Mallman's '70s-redolent music will immediately have you up on your feet!
GET THERE EARLY, GET A FREEBIE
We'll be giving away a special limited edition Minnesota RollerGirls t-shirt to the first 200 people in the doors. There will also be a very limited quantity for sale. When they're gone, they're gone, so get there early!
GET A BLACK EYE OR SHOW YOUR TEAM SPIRIT
Get old fashioned black eyes for $1 at our Black Eye Booth, or support your favorite home team for a $2 donation (kids always free!). If you think we've done an exceptional job, a more generous donation is always appreciated. All proceeds go to our Black Eye Booth charity of the evening, Camp Gratitude.
AFTER PARTY
Join us after the bout at Tom Reid's Hockey City Pub to hobnob with your favorite rollergirl!
BOUT CHARITY
Our season long charity is the Ann Bancroft Foundation's Let Me Play Grant which funds athletic & dance equipment or participation fees for girls ages 5 through high school graduation, giving them the opportunity to be part of a team, build strength and confidence, and push themselves farther—on the field and off.
DOOR CHARITY
Each bout, we select one worthy cause to support as our door charity. For this bout, we'll be supporting Camp Gratitude. Camp Gratitude is a FREE week-long camping experience for military and veteran families to relax and have fun while building strength and resilience. They hold these weekends to honor and thank families for their service to our country. The camp is for any military or veteran family that has experienced deployment.
TICKET DISCOUNTS
At the door only, bring your valid student ID to receive a $2 discount.
In addition, we typically collect items to support our door charity to receive a $2 discount off your ticket at the door. Check back soon to find out what we'll be collecting this bout!
(one discount per person/per ID or donation).